Uncanny Foresight – The Work of Lauren Groff
Written exclusively for UEA Live, by Sara Taylor

One of the most critically acclaimed writers of her generation, Lauren Groff's work is nothing if not approachable. The author of four novels, two story collections, a novella, and numerous short prose pieces, Groff's first literary love was poetry; this early romance can be seen in a style that reads as effortless, though it takes too much care with the rhythm and nuance of language to be anything but fully intentional. Her understanding of structure and appreciation of forms show in stories and novels that, no matter how freely they seem to stray from their initial concept, are underpinned by a structure that is organic, a matrix that is built into and supports the whole rather than being hastily scaffolded on near the end of building. To read her work is to explore the house of a master architect, to walk the path of a platonic labyrinth, with every unexpected digression proof of her mastery.
Groff was born and raised in Cooperstown, New York, a village of fewer than two thousand residents founded by the father of James Fenimore Cooper. As a child there was no space for her voice and little encouragement for her to use it, so she turned instead to reading, working through everything she could get her hands on without restriction or oversight. Among these early influences were the works of James Fenimore Cooper, who fictionalised Cooperstown as the village of Templeton in his Leatherstocking Tales. It was at this time that her love of poetry took root, which Groff ascribes to the gifting of a volume of Emily Dickenson's work when she was twelve. The affair persisted until she was a student at Amherst College, when the realisation that she only had one life to live and could only fill that life with a single great obsession led her to prose.
Groff's first novel, The Monsters of Templeton, bears the mark of this early life, speaking back to the place where she grew up and the myths and mythos of Cooper.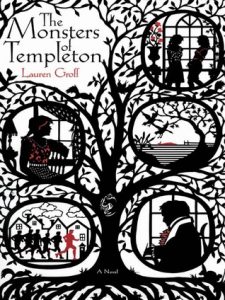 The novel begins with the corpse of a monster surfacing in the local lake, an event that would be momentous were it not immediately followed by the protagonist, Willie Cooper, returning to her mother's house in Templeton pregnant with her PhD advisor's baby and doubtlessly expelled for having tried to run over said advisor's wife with a bush plane. The drama of Willie's present-day situation is more than matched by secrets of her family's past, and the unravelling of both occupy the pages that follow that gut-punch of an opening. The novel takes the form of a palimpsest of found materials – letters, diaries, newspaper clippings – intercut with chapters narrated by characters past and present, resulting in a whole that is greater than the sum of its parts.
Though it begins in her hometown, Groff's writing moves far beyond this point of origin, looking forward to the concerns of the future even when set in the past. The anxiety of pandemics and climate change stalk her work, as do questions surrounding marriage and parenthood, the ties of community and the ways they can both support and strangle, the potential for authoritarianism that often hides in benevolence, and privilege and what it allows to come into the world. This might be heavy fare in the hands of a less skilled writer, but Groff deals lightly with the darkest material. Her style is captivating, capable of providing emotional complexity, intellectual inquiry, and humour all at once. She asks difficult questions, unravels uncomfortable dynamics, with a dexterity that makes it bearable, and often cathartic. Rather than undercutting the seriousness of her material, this approach leavens it, makes it possible to consider head-on.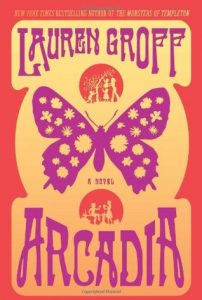 Arcadia, her second novel, begins in a 1970s commune and ends during a global flu pandemic, a version of 2019 she imagined a decade earlier with unsettling accuracy. Her third novel, Fates and Furies, is perhaps the most well-known; a forensic examination of a marriage and the misconceptions its participants hold about each other, it was selected by President Obama as his favourite book of 2015, as well as being a NYT bestseller, winner of the American Booksellers' Association Award for Adult Fiction, the Madame Figaro Grand Prix le l'Héroïne and was a finalist for the National Book Critics Circle award, the National Book Award, and the Kirkus Prize. Her short fiction explores much of the same thematic territory, the more limited canvas proving the freedom of constraint, her prose no less masterful for the constraining. Delicate, Edible Birds collects stories that range far, touching on the 1918 flu epidemic, Nazi-occupied France, the depths of the ocean and back again to Templeton, New York. Florida makes use of a setting that is a hotspot for both environmental and political pressures, a bellwether for the rest of America, and a state to which Groff is a somewhat unwilling transplant, as the setting in which to explore the questions that shape her longer fiction.
Matrix, Groff's latest novel, is both a return and a departure from her usual territory. A fictionalised account that reimagines the poet Marie de France as an abbess in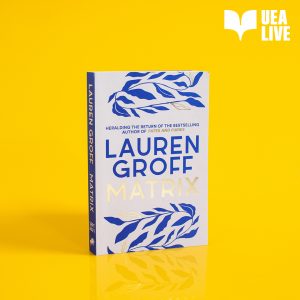 12th century England, it is the most distinctly historical of her novels thus far. Rather than presenting the world of Marie and her abbey as a static look at the past, she uses the lens of history to cast light on the present: the far-reaching effect of the Crusades and of Christian hegemony, the assumptions and values that underpin humanity's relationship to nature, the joy and difficulty of community and the many-faceted experience of being female. In this way, the novel offers a cautionary tale wrapped in escapism, the idyllic world of the abbey entered at the price of considering the implications of its existence.
You may be drawn to her writing because of the questions it asks and the ideas that it explores. You may find that it is her perfect, arresting sentences and poet's ear, or craftsman's understanding of structure that attracts you. Whatever induces you to pick up one of Lauren Groff's books, you may find yourself unsettled in the end, but you will never be disappointed.
Sara Taylor was born and raised in rural Virginia. She has a BFA from Randolph College and an MA in Prose Fiction from the University of East Anglia. The Shore, her debut novel, was shortlisted for the Guardian First Book Award and longlisted for the Baileys Women's Prize for Fiction. In 2015, Sara was shortlisted for the Sunday Times/PFD Young Writer of the Year Award.
Image credit:
Header Image: Eli Sinkus