The Poet Mustn't Be a Lone Wolf – Malika Booker on the Power of Poetry and Poetic Community at UEA Live
Written for UEA Live by Perla Kantarjian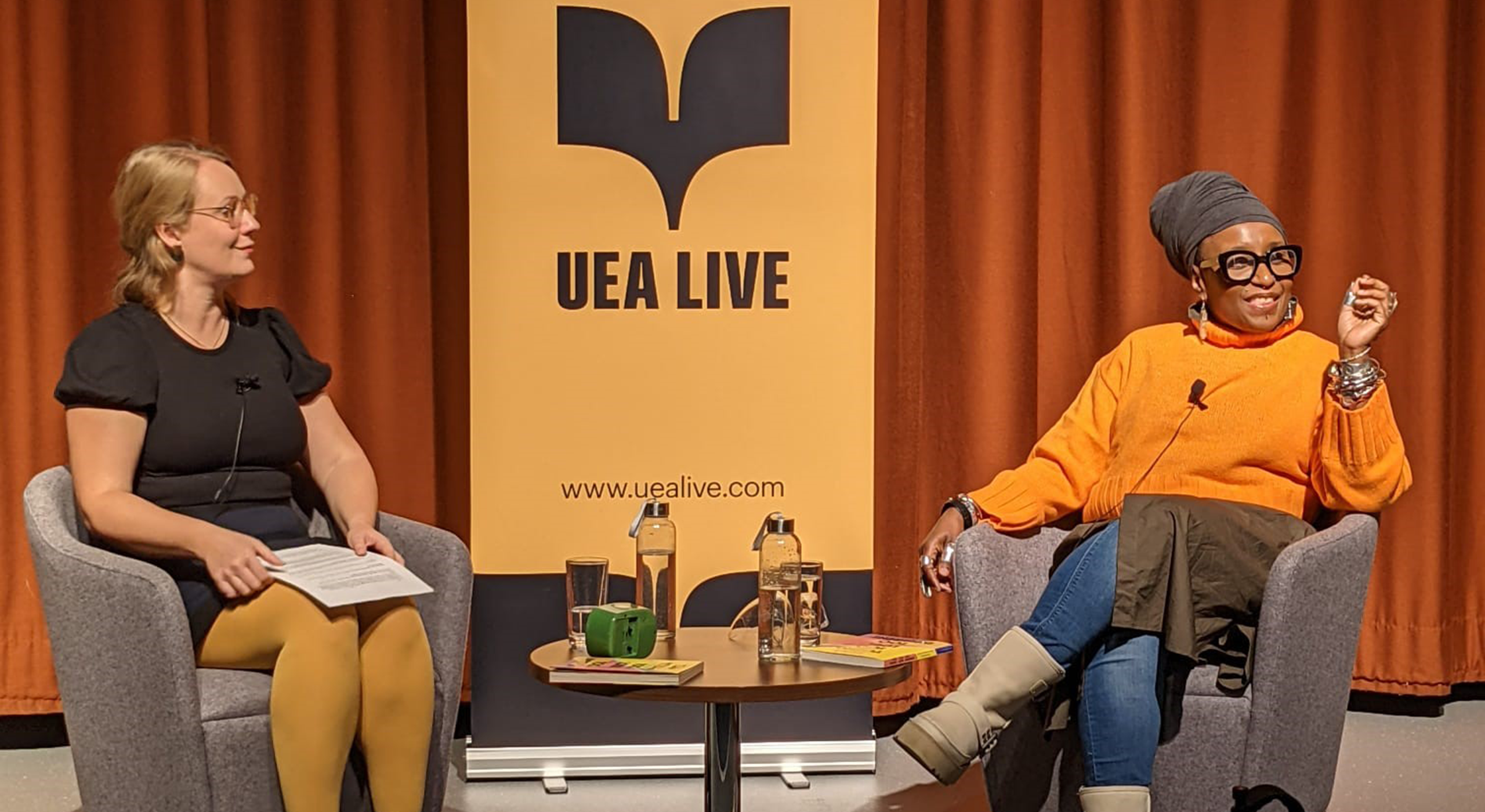 On the eve of November 17th, in the crest of the fall season, the moon was waxing, and the crisp Norwich air was ripe with the autumnal power of change. Wonderfully fusing into that atmosphere, UEA Live hosted its final event of the season with a woman that so fiercely yet delicately epitomises the power of change, movement, and transformation— writer, poet, playwright, and multidisciplinary artist Malika Booker.
The function commenced with a warm introduction by K.R Moorhead, Co-Director of UEA Live, and despite there not being any ribbon-cutting, the mood inside Lecture Theatre 1 had a spirited and ceremonious tide, which left us all hanging on to Booker's every articulation.
In centre stage, Booker was interviewed by Molly Naylor— writer, poet, performer and UEA scriptwriting alumni turned lecturer, whose every figment of conversation addressed to the star of the evening was crafted with genuine fascination, esteem, with a perfect balance of wit as a cherry on top of an already-delightful eve.
In the limelight of the UEA Live talk was Too Young, Too Loud, Too Different (2021), the first anthology to be released from Malika's Poetry Kitchen (aka MPK, aka Kitchen), a thriving writers' collective founded in 2001 by Booker herself and acclaimed poet Roger Robinson in the former's Brixton kitchen, every Friday.
As attendees of the talk, we got inside information on how Kitchen first spontaneously came into light from Booker herself: 'My friend Roger Robinson and I were in a writing development course together, and it was so wonderful,' Booker said.
'We got so much information about poetry, writing, reading, and then it finished— afterwards, I was in my kitchen talking to Roger, and I said: "we should have things like this with food!" to which he replied, "let's do it." So, when shall we start? He said next week. Where? He said, "right here in your house!"'
And indeed, it happened. The next week, the two writers invited a lot of writers, but only 1 person showed up. The following week, however, more people started coming, and the next, even more. It was all happening.
'We wanted to create a safe space where writers could be vulnerable, could build community, could develop their writing, and be open to feedback that's honest and true,' Booker explained, adding that most importantly, '[we] wanted writers to find their own, individual voice away from the boundaries of the establishment. We wanted them to discover what truth it is that they want to tell.'
As Booker puts it, Kitchen was a place for working-class writers, LGBTQ writers, writers of colour, writers who didn't have other spaces where they could develop their craft.
Now, 20 years later, the lively, London-based writing community has inspired similar Kitchen models to be set up worldwide, from Chicago to Delhi, creating an international MPK family, with dynamic and profound sessions on the craft of writing being led by members of the collective, as well as renowned guest poets from the UK and beyond.
For myself as a writer, in addition to understanding the story behind the ground-breaking anthology and the history of Kitchen, attending the enlivening UEA Live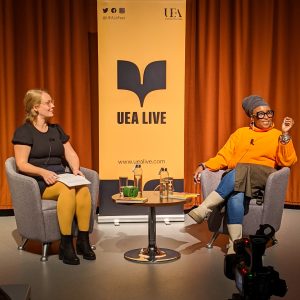 session with Booker unfurled a new vista and understanding of the beauty of belonging in a poetic community.
For Booker, the notion of writers as 'lone wolves' does not strike true. In her words, writers need to belong in a community, they need people to advocate for them, to hear them, and in return, the writer must do the same and support and invest in others of the same society.
To boot, Booker's perspective on the power of poets and poetry to affect change most certainly infused me, along with all the creatives in that high-spirited room, with a resurrected spark for that powerful form of literature we feel called to.
It is always different to hear about the ways of the writing world from momentous writers themselves, and getting to hear Booker, epitome of an inspirational figure in contemporary literature, share her advice to aspiring poets was a gripping (and much needed!) reminder: 'First of all, you need to pat yourself on the back', she said. 'Out of all the things in the scheme of writing, you've decided to be a poet; and that's a big step in itself and that says it's a passion; and I believe in investing in your passion.'
Among her pieces of advice for poets in-the-making were the following: 'Read as much as you can, write as much as you can. Don't write for the prizes, the magazines, write your own truth. Cultivate bodies, cultivate a community, find your people, and keep at it. It's not an easy space to be in, but when you get to the point you want to reach, you'll discover how poetry is something much more spiritual and powerful beyond creating a book.'
Through the past two decades, Malika's Poetry Kitchen has ushered in a new generation of voices, launching some of the most exciting writers, books, and influential initiatives in the poetry of the British landscape.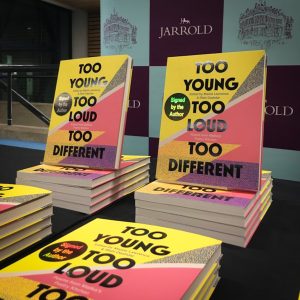 Too Young, Too Loud, Too Different celebrates Kitchen's far-reaching legacy. The collection features sixty-five breath taking new poems by Warsan Shire, Inua Ellams, Kayo Chingonyi, Dean Atta, Roger Robinson, Malika Booker among many others, a few of which were beautifully read by Booker during the UEA Live talk.
In addition to the striking poetry, the collection also offers readers personal insight into the history of the Kitchen through "The Secret Knock" by author Daniel Kramb, and "Eighteen Steps to Starting Your Own Poetry Collective", the headlines of which were read by Booker.
Perla Kantarjian is a Lebanese-Armenian writer, editor, and journalist, with her writings appearing in over thirty publications worldwide. She is currently pursuing her MA in Creative Writing (Poetry) at UEA as the 2021 Sonny Mehta scholar.