UEA Live event: Ellah Wakatama in conversation with Tsitsi Dangarembga
Written exclusively for UEA Live, by UEA LDC student Molly-Rose Medhurst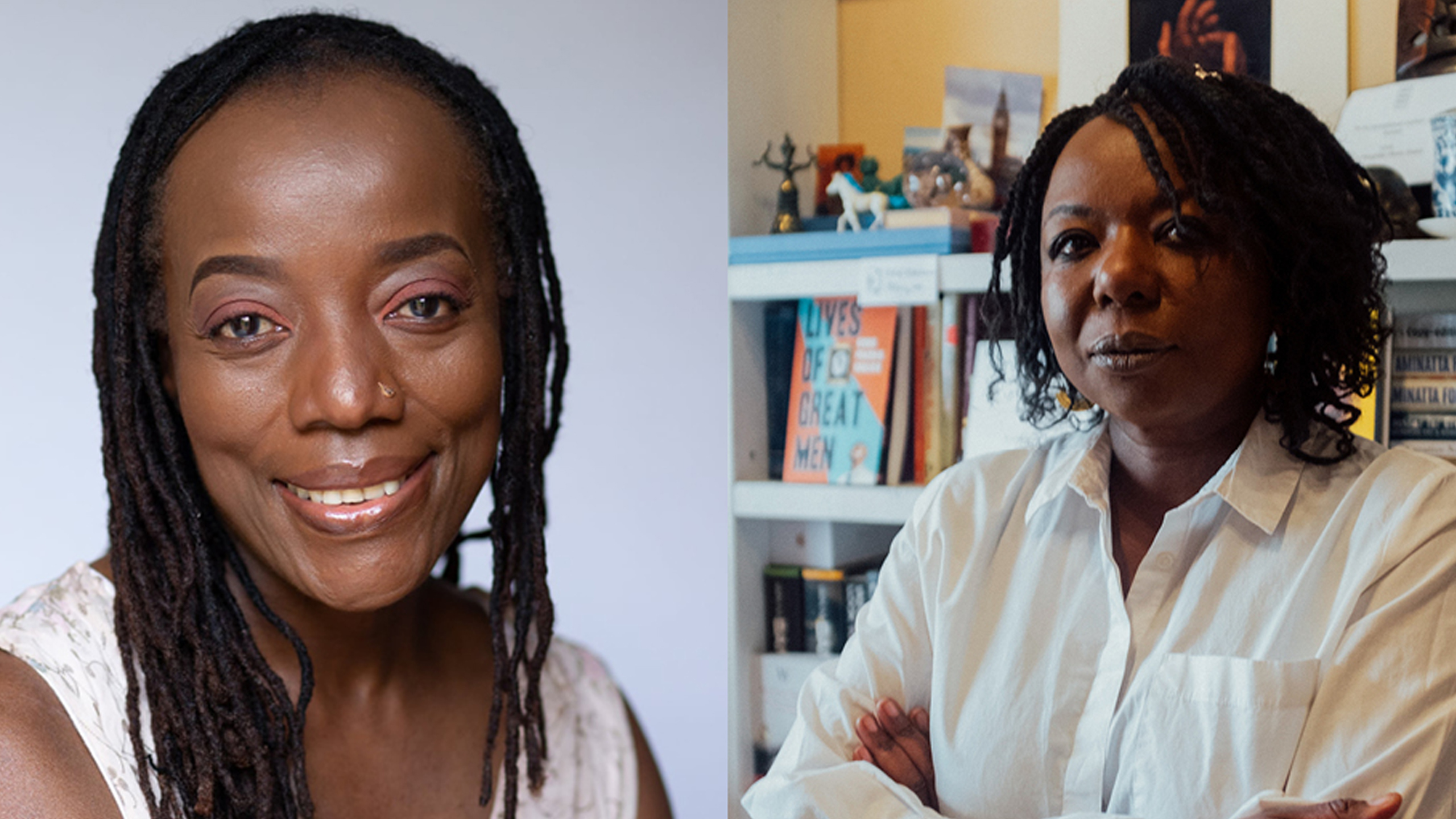 It was a delight to listen to the riveting conversation between Ellah Wakatama and Tsitsi Dangarembga, chaired by Jean McNeil, professor of Creative Writing at UEA. Ellah Wakatama is the OBE Editor-at-Large at Canongate Books, Senior Research Fellow at Manchester University (Centre for New Writing) and Chair of the Caine Prize for African Writing. Tsitsi Dangarembga is a critically acclaimed filmmaker, playwright, author and director of the Institute of Creative Arts for Progress in Africa Trust.
Tsitsi Dangarembga is the author of three novels, including Nervous Conditions, which made her the first Black Zimbabwean woman to publish a work in English. During the conversation, Wakatama addressed this, asking if it was a hindrance or a help that Dangarembga had no predecessors. Dangarembga warmly revealed that she never took any literature classes and had no formal schooling, so she had a natural tendency to gravitate towards the literature she enjoyed, not continuing with the pieces she didn't. The overwhelming guilt that I still sometimes feel when I don't finish a book once started, even though it might bore me to tears, was never a factor for Dangarembga. She embraced the freedom to do things her own way, to not follow in the steps of any literary tradition, saying that this "freed me up to simply be myself on the page."
Her latest novel, This Mournable Body, the third instalment in the Nervous Conditions trilogy, was shortlisted for the 2020 Booker Prize. Dangarembga delved into how the main protagonist, Tambudzai (or Tambu), first came to her and how her nature, at times frustrating and hard to contend with, reflects her facing up to the legacy of independence in Zimbabwe. She also explored how the title for the book came from the New Yorker piece, 'Unmournable Bodies' by Teju Cole, following the Charlie Hebdo attacks in Paris. She touched on the Pan Africanist movement, the importance of transforming ourselves through creative acts, and even read us an extract from This Mournable Body.
Throughout the talk, she returned to her incredible work with young people, heading the Institute of Creative Arts for Progress in Africa Trust. She spoke about empowering young women to see themselves, and their work, on the big screen. In most women and afab people, I can see the signs of socialisation as less worthy, less likely to try and take up space. This is a generalisation and generalisations do not allow for the nuances of an individual's being, of their identity, of their support network and upbringing, but it is a pattern I have observed and read up on, nonetheless. I really appreciated Dangarembga's recognition of the malign nature of patriarchy and as an intersectional feminist, her particular emphasis on how important it is to build up the confidence of young Black women cheered me. She shared that when some young people online were complaining of a lack of romance in African writing, she hoped to instil in them the belief that they themselves could fill that gap. As Toni Morrison puts it, "If there's a book you really want to read, but it hasn't been written yet, then you must write it."
She also touched on how every creative act is political. Returning to the subject of romance, she remarked on the fact that falling in love is itself a political act, as you need to have the safety, security and trust in that other person, which comes with a certain level of privilege. When asked about activism, Dangarembga considered her activist work, such as her recent unconstitutional arrest in Zimbabwe, a "necessity". She compared it to going and fetching water if you do not have any available. What really struck me were her shrewd observations that the world likes to see an African woman as an activist, rather than a writer, so she likes to draw a line between herself as an activist and herself as a creative. I have always enjoyed the idea of writing as a form of activism, as a radical call to reform, whether you are trying to convince people to tear down systems of inequality, or simply asking people to love and respect each other. Dangarembga's comments are a reclamation of the rights of Black people, of other marginalised communities she mentioned such as Asian people, to create and to simply be admired for their creativity. If everything is political, what you choose to label as "activist" or "political" says more about how we have attached stigma to certain discourses; in this instance, any discourse which describes the life of young, Black, Zimbabwean women.
Related to this, when Wakatama asked about Dangarembga's filmmaking career, Dangarembga noted that she had been encouraged to make a documentary about crises, problems, etc., but making a film about her Zimbabweanness and womanness was not something she has been pushed to do. She wants to make one regardless and quipped that she might have to "do another Nervous Conditions move in the film world!" This meditation on what type of films the world is willing to see was so insightful. It brought me back to being forced to participate in some kind of fun run charity event with my primary school. A couple of kids yelled, "For Africa" as they ran. It is only on reflection that I really appreciate the talk given to us afterwards by our teacher. At the time, I was just grateful that the running was over. She explained how dangerous and reductive it was to see a whole continent as a monolith of poverty, begging for charity. I think what Dangarembga was getting at was that Western European/American filmmakers depict the entirety of Africa in a certain light because it is far more palatable for white audiences to blot out any consideration of colonialism, past or present, sticking to a Eurocentric narrative oriented around white saviourism, rather than confront the complexities of reality.
One of countless parts of this talk which inspired me was Dangarembga and Wakatama's discussion of young, Black women writers seeing themselves in literature. The myriad of experiences in Black, mixed-race or biracial women's work, especially when it relates to their identity, resonate with me in a way which nothing else does. It is usually just a couple of words, a sentence, a small observation. It is wonderful to capture a sense of belonging, however fleeting. Wakatama comments that, reading Tambu's story, Dangarembga had "seen us, put us on the pages". Young, Black, African, Zimbabwean, woman. Dangarembga, delighted by this reaction, shared how, growing up, she realised that "we hadn't been seen in a way which commits our stories to literature and into time". The relationship between key pieces of literature and having a place in history reflects the importance of what we read and write. In 2018, Nervous Conditions was listed as one of the BBC's top 100 books that changed the world – another testament to the extraordinary power of literature, and, of course, to the talents of the inimitable Tsitsi Dangarembga.
Her road to success, however, hasn't been the smoothest. She recounted trying to get Nervous Conditions published and being unable to do so in Zimbabwe. She revealed how one publisher had even said that her book "wasn't a novel" and had been quite cutting about her work. She finally managed to get published in the Women's Press, the same publishers who first sold The Color Purple by Alice Walker. She also spoke about her struggle to publish This Mournable Body, leading her to post excerpts on social media platforms. The two women fondly reminisced as Dangarembga revealed that Wakatama had been the one to reach out to her, saying she saw something in her extracts and asking to send over a manuscript. The genuine kinship between the two of them was evident in their interactions, laughing and cajoling, but most importantly, listening attentively as they bounced ideas to and fro.
Dangarembga remarked on the surprise and wonder she felt at the far-reaching impact of her trilogy. The fact that so many people would read her books was completely unprecedented, using the example of a Swedish man being moved by Tambu's father, Jeramiah. Now, as UEA's International Chair for Creative Writing, she is thrilled to be able to extend her work, both as a writer and as a person working to cultivate the talents of others. She spoke about how wonderful this position is, along with the creation of 30 new international scholarships.
The Q&A drew the eager audience into the discussion, asking really interesting, insightful questions which solicited the same calibre of answers. One question asked what maps she has left to carve out of her own writing, expanding on Dangarembga's earlier reference to what is missing being the 'map' for what you can write. To this, she responded that you have to work out the maps for yourself. It's a long process learning how to do this, but a valuable one nonetheless. She also suggested that this led her towards starting to write speculative and dystopian fiction, imagining new realities for her readers, and herself, to rejoice in. Whenever she publishes these in-progress pieces, I cannot wait to read them! I think the power of writing speculative fiction lies in sketching new parameters for living.
The brevity of this piece does not do the thought-provoking conversation between Ellah Wakatama and Tsitsi Dangarembga justice. It was a wonderful space to be a part of, as have been all the other UEA Live events I've attended. I urge you to sign up if you haven't already!