Not a Joke, Just a Fact – Bimini Bon Boulash Releases The Beast at UEA.
Written exclusively for UEA Live, by UEA LDC student Abby Bourke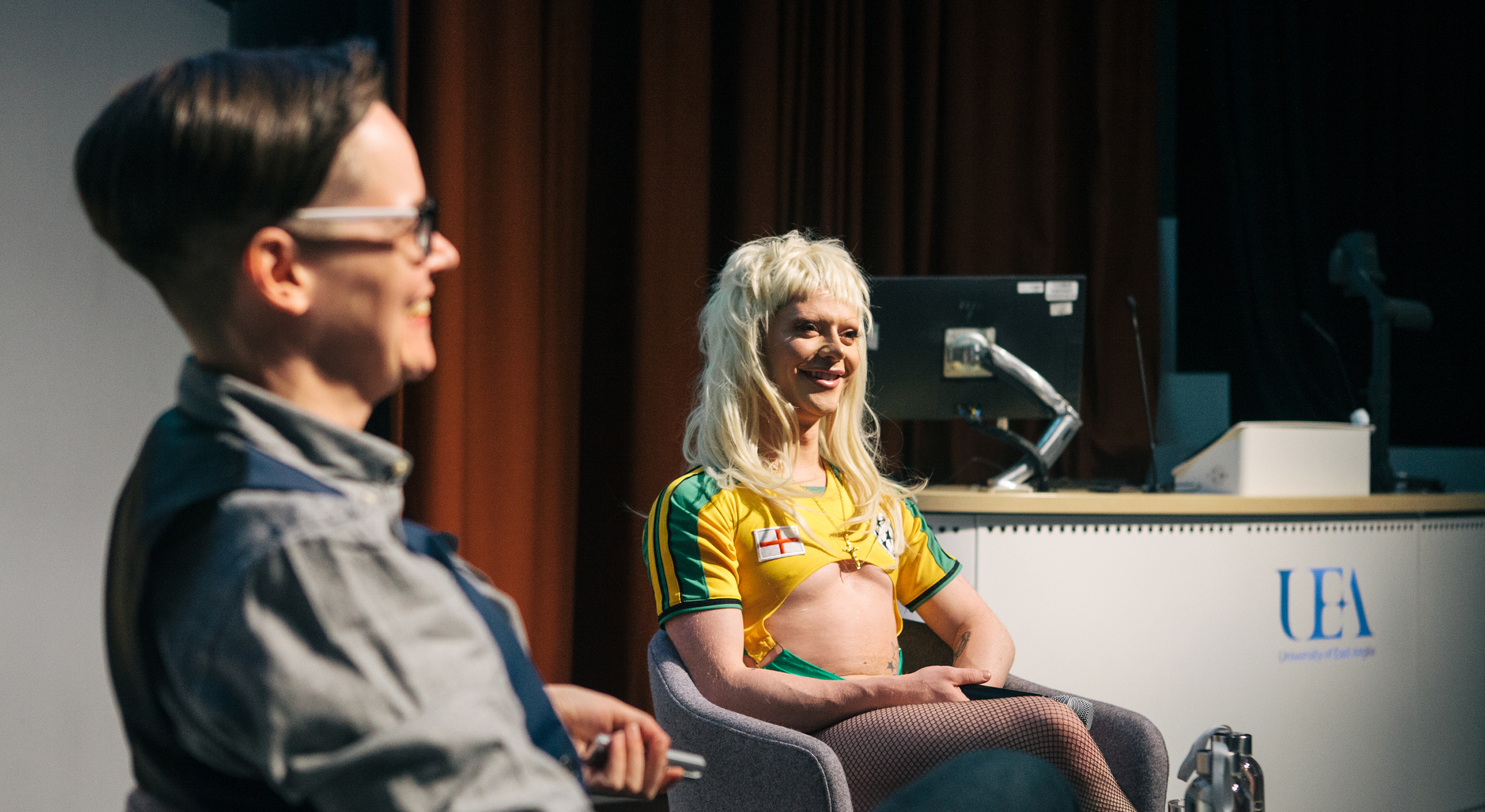 The nation's favourite drag queen Bimini Bon Boulash marched down the Lecture Theatre steps in ten-inch-thigh-high-latex boots as the second author to speak at UEA Live this autumn to talk about their brand new book, Release The Beast: A Drag Queen's Guide to Life which was to be officially published by Penguin Books the very next day. Bimini Bon Boulash, the notorious star of RuPaul's Drag Race UK Season 2 uses their book to bring to the forefront how powerful the art of drag can be to everyone in terms of politics, gender identity, fashion and self-expression.
As a huge fan of the drag scene, and especially RuPaul's Drag Race, the idea of seeing Bimini live was too exciting to miss. This queen is not only considered a queer icon due their charm, their humour and their fashion (although these alone should be applauded and recognised), Bimini has also become known for their non-conforming attitude to gender as a non-binary individual and has inspired people across the world to express themselves without limits, to be the true version of themselves.
The first thing Bimini and UEA Live's Co-Director KR Moorhead discussed (to my delight), were some of Bimini's favourite fashion looks that came down the Drag Race main stage. Bimini's entrance look – described as the 'Bimbo' look – flashed on the screen and began KR and Bimini's conversation about societal attitudes towards expressions of femininity. Bimini shared that they chose this as an entrance look purposefully to be underestimated and to show how easily women are overlooked and patronised when they dress a certain way. This concept is something which is explored in the first chapter of Bimini's book "Don't Be Scared to Embrace the Femme", in which they talk about how some women who are mocked by British media for their appearance – such as Katy Price who Bimini chose to impersonate on Drag Race – found a way to manipulate this preconception of the "Bimbo Persona" to work to her advantage. As someone female presenting, I found this chapter exceptionally inspiring: being a woman can be frustrating, exhausting and sometimes downright terrifying, so it's unbelievably hard to untangle all the internalised misogyny from my mind and fully embrace femininity.
As a non-binary drag queen, Bimini was adamant that the art of drag is always political. Drag, they explained, is an active rejection of gender roles and societal expectations that have only been put in place to control and limit us. When asked by KR whether they were always political as a drag queen, Bimini responded with an anecdote relating to their first ever drag performance which involved Bimini dressed up as "sexy" Hilary Clinton and quickly progressed into giving a lap dance to a colleague dressed as Donald Trump. So yes, Bimini has always been political in drag. However, Bimini emphasises the importance of continued activism because the fight for equality and inclusivity is far from over. In the chapter aptly named, "Be a Cis-Tem Offender", Bimini explains how crucial it is that everyone becomes active in their own communities, to question mainstream British media that reinforces prejudices, and to use your voice to help the people who are still silenced. For example, one question that made me stop and think about my own city and its inclusivity was when Bimini asks on page 48, "Have you ever thought about whether your local gay venue is accessible to disabled people?"
Ultimately, Bimini Bon Boulash's Release the Beast is a refreshing alternative to your average self-help book and offers inclusivity unlike any other book I've read. Bimini talks us through their missteps, their awakenings and their proudest moments while simultaneously teaching about queer culture and its history. I'm not ashamed to say that I cried no less than three times hearing Bimini and KR talk so openly and positively about their explorations of gender and queer-ness and the reactions from the audience told me I wasn't the only one touched by the evening's conversations. It is an experience that will stay with me for a long time and will definitely be used to gloat about to my fellow Drag Race obsessed peers!
Abby Bourke is a nineteen-year-old undergraduate and is in her first year studying English Literature and Creative Writing at UEA. She enjoys focusing on queer theory and gender studies within modern and post-modern literature.
Image credit:
Header Image: Joanna Millington
Index Image: Joanna Millington