"A World of Trouble"
Jon McGregor on the limits of language in his latest novel inspired by the Antarctic. Written for UEA Live by Lorna Marsh.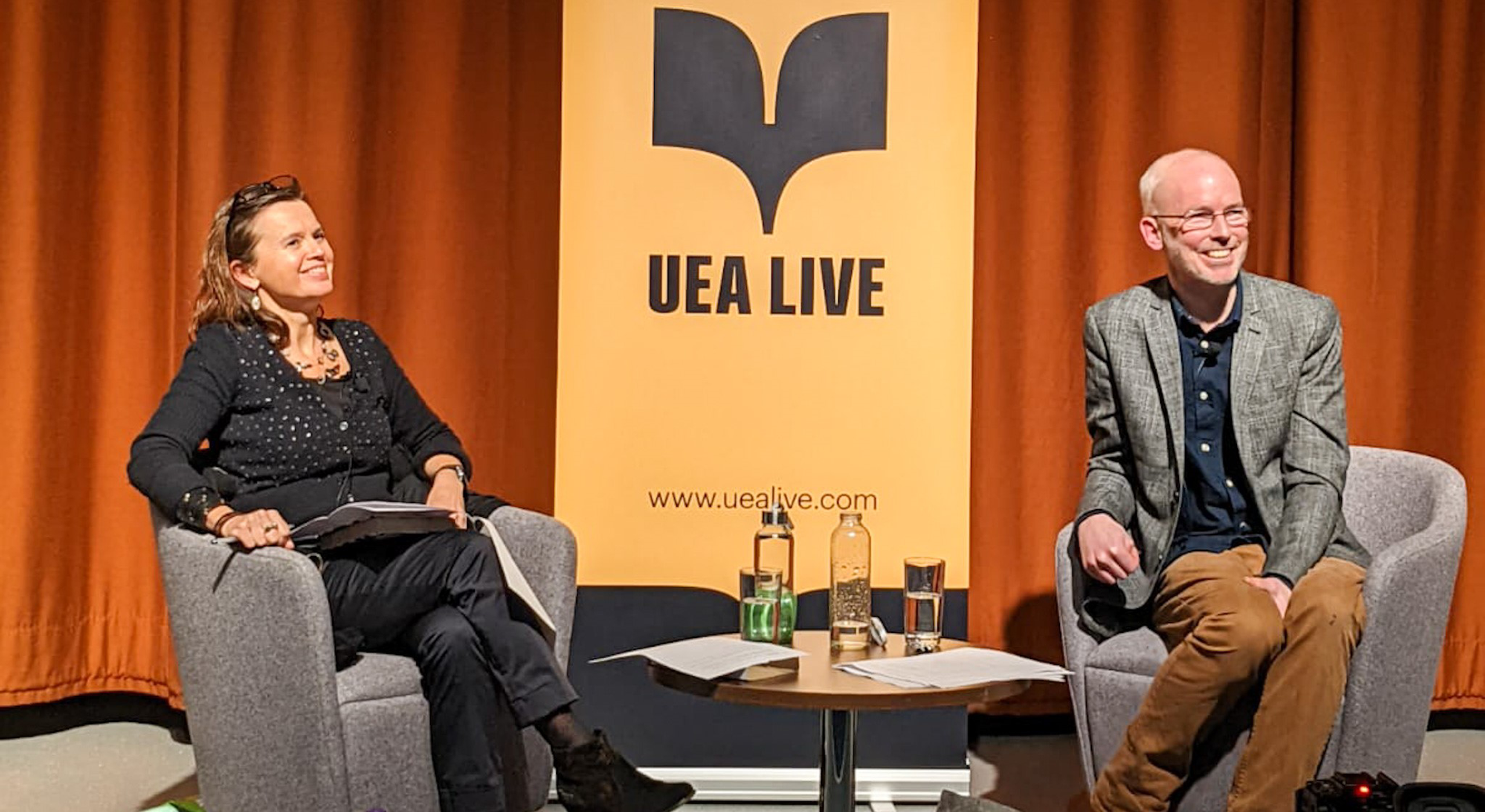 Booker Prize nominee Jon McGregor concedes that his latest novel is set, like most novels about Antarctica, "in a world of trouble". But this is where the comparison with many Antarctic novels ends. For Lean Fall Stand is no disaster story in the traditional sense. Instead, it is a story of personal catastrophe and as much inspired by the limits of language inadequately describing Antarctica as the landscape itself.
Jon, Professor of Creative Writing at Nottingham University, was joined at the first of the spring season of UEA Live events by UEA Professor Jean McNeil. He opened the talk by saying how good it was to speak to an audience in-person rather than through a laptop, and answer questions from people, not comments posted on the side of the screen. Norfolk is familiar territory for The IMPAC Dublin Literature Prize and Betty Trask Prize winner, who grew up in the county.
His reading of an early passage from the novel illustrated his acclaimed adeptness in writing craft. Fragmented, abstract language is manipulated to confuse the reader but also depict the confusion felt by key character Robert 'Doc' Wright, a scientist who, it transpires, is suffering a stroke onboard an Antarctic survey vessel. The reader is plunged into the tangled mess of Doc's consciousness before the novel turns to deal with the aftermath of the stroke, chiefly the loss of language – the aphasia – he experiences and his efforts to recapture it through rehabilitation.
The novel was inspired by Jon's time as writer in residence onboard a British Antarctic Survey (BAS) vessel which led to his own world of trouble in returning to the UK under obligation to produce a novel from his experience but feeling a distinct lack of inspiration. He ended up "going round in circles" and feeling an artificial, forced pressure on his creativity.  Jean, who became BAS writer-in-residence a year after him, described it as the "extreme sport" of writing projects.
While Jon didn't complain about the fact the survey vessel failed to reach its Antarctic base camp, this can't have helped his inspiration. Apart from seven hours off-board where he was able to visit Shackleton's grave, Jon spent the entire six-week trip on the vessel as it struggled to break through ice, eventually having to turn back to avoid running out of fuel.
Being onboard for this extended period proved to be an "intense experience" where initially he felt out of his depth in a "culture where everyone knew what they were doing, everyone had a plan and an agenda and were doing genuinely important work, work they'd been planning for years. And they had no idea who I was or what I was doing." He said that he spent most of his time pretending not to be there and "eating a lot of cheese". But he did get to know his fellow crew, forming close friendships and hearing their stories about the Antarctic. More importantly, despite not reaching base camp, he also witnessed an "inhuman" place that was beyond expression. "Language usually works by a shared frame of reference, it exists because we share meanings but the Antarctic is outside most people's frame of reference and no language has developed to express it." He said he didn't want to be another writer who spends pages describing icebergs in great detail, but ultimately inadequately, and it was this inadequacy of language that inspired the exploration of aphasia in Lean Fall Stand, in which "Doc comes up against the limits of language in a number of ways."
The novel required by the terms of the residency then developed into a story about language itself, using language to express its own limitations. It's a central conceit that Jean described as "impressive" but also deals with a writer's greatest fear – the kind of language loss where Doc "has to root around in flowerbeds for words". When asked if writing about aphasia impacted his own ability to find the right language himself, Jon answered that it did only in a deliberate sense, in depicting the aforementioned confused, fractured consciousness of Doc. He described the idea of aphasia as "compelling but terrifying" and said he was "interested in what happens when you abstract language", taking inspiration from Modernist writers like James Joyce, Gertrude Stein and Samuel Beckett who "deliberately broke down language" and "pushed" it.
Jon did however find it difficult to find fiction about stroke and aphasia, digging instead into the many memoirs he discovered and his own research, which saw him talking to not just health professionals but stroke survivors and their families. He joined a support group for a year where he got to know survivors as individuals, and about their lives outside their experiences of aphasia.
The novel is told not just from Doc's point of view. The second section is focalised through his wife Anna, dealing with how she is "thrown into" the role of her husband's carer, touching on current social issues of austerity measures and lack of health funding which forces relatives into a caring role. Jon agreed with Jean that the themes of love, commitment and care seem to be prevalent in current fiction, but didn't want to sentimentalise the role of carers: "We often talk about carers as being heroic, selfless, loving and caring but they have no choice […] I was driven by that but also conscious of pushing an agenda because then it stops being fiction."
When asked about how he achieves the writing craftsmanship for which he's acclaimed, Jon surprisingly said much of it was embarrassment or doubt in his work in progress. Jean commended his narrative control that led to a "quiet, stealthy intensity", asking how he achieved such an "hypnotically intense" work. Jon answered that "self-doubt and a kind of shame" in the idea of someone else reading his work forced him to ask, in the editing process, whether every sentence was "worth someone's time" and therefore he was always trying to condense his work. He said: "There are competing instincts, the ambition or conviction that it will come together but also an awareness of what I am writing is rubbish. That tension is useful. Self-doubt may be unfashionable but I find it useful."
Lorna Marsh is a second year Film Studies and English Literature student at UEA who also enjoys creative writing. She is especially interested in the power of folk and fairy tales and how these continue to resonate now.