Poetry and the Reimagined Life: Basking in the Presence of Easy Genius
Written for UEA Live by Michael Baker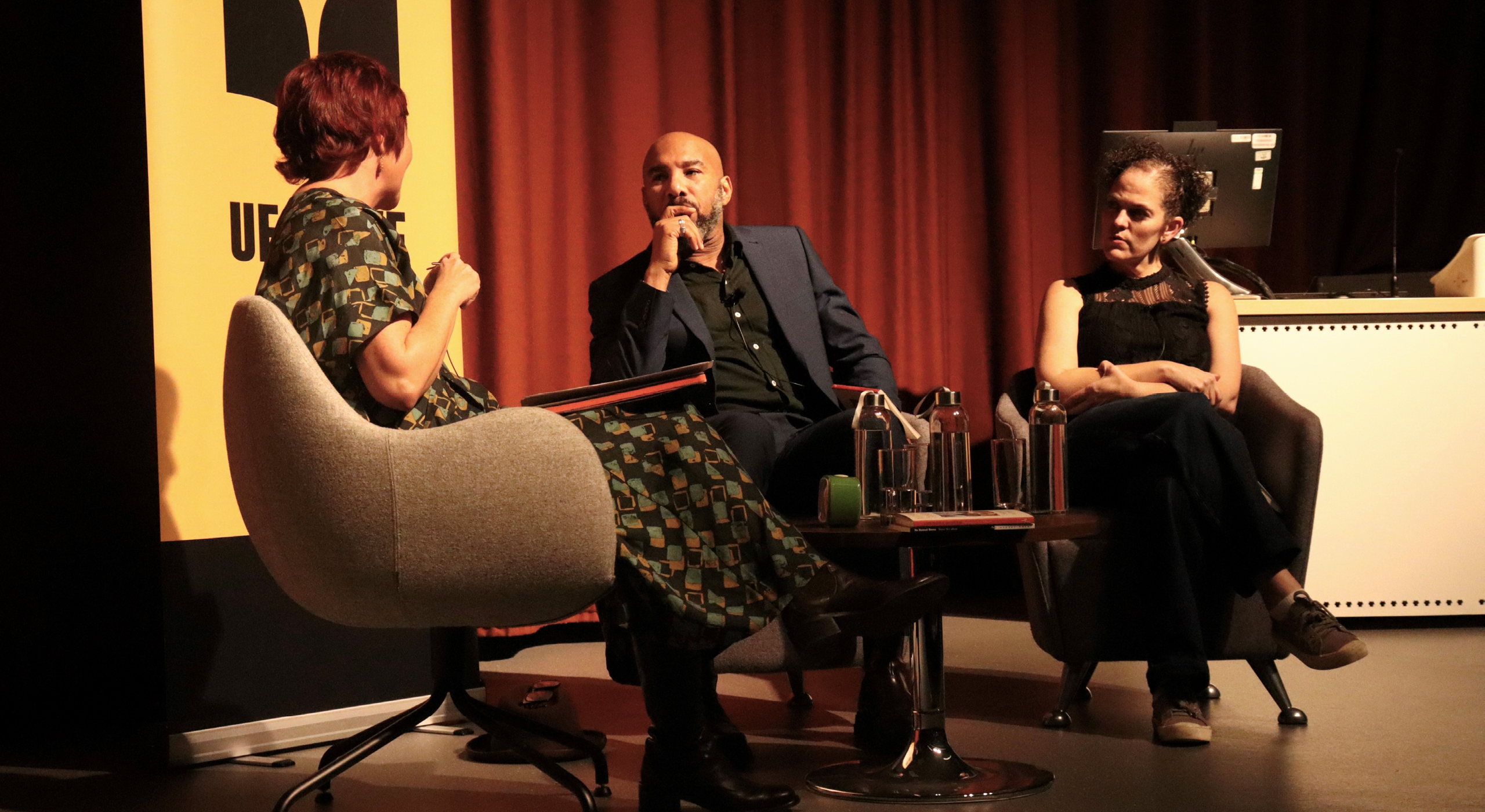 Sitting down to write this feature piece came more easily to me than I could have expected. As a writer with ADHD, it often seems that the words I need live just slightly out of reach of my keyboard. Not tonight. This evening I sit and silently wish for a higher word limit so that I might do better justice to Anthony Joseph, writer of Sonnets for Albert and Shara McCallum, writer of No Ruined Stone. Hereafter, I will discuss my experience with each poet individually so as not to dilute their messages.
I took my seat in the lecture hall weighed down with a blend of trepidation, excitement, and the palpable fear that my soon-to-be rampant scribbling might distract those around me. This scribbling was inevitable, I knew, because if my precursory readings of the two poets had taught me anything, it was this: I was about to enter the presence of genuine brilliance.
And, low and behold, score one for me! Hardly a minute had passed into the event before I committed pen to paper. At the behest of Prof Alison Donnell (who handled the unenviable task of balancing a single hour between two great minds very admirably), Shara began the evening by reading the first poem of her work of verse narrative: the eponymous No Ruined Stone. I confess that my first note was nothing profound. It simply read: "Is Shara reciting from memory??" And, of course, she was. Almost effortlessly, Shara kicked off an evocative and enthralling exploration of the relationship between the living and the dead and the ways in which history can be bridged through poetry. It was a true display of her commitment and passion that she could flawlessly recite the twenty-four-line poem from memory. I am happy to say that this was one of the most impactful poetry readings I have ever experienced. The poem was written as a direct message to Robert Burns, and that conversational aspect of the work really made it feel like she was talking directly to us as an audience. My biggest dilemma was getting anything written down amidst her enthralling performance; it was a poem that demanded my full attention, and I was more than happy to give it.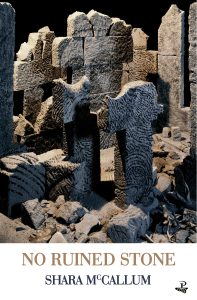 No Ruined Stone explores an alternate, multi-generational history of poet Robert Burns – one wherein the famous poet decides to move to Jamaica and work on a slave plantation as an overseer. Shara's ambition is self-evident in the work, which offers a fictional granddaughter of the Scottish poet as a lens through which to examine the experience of a white-passing descendent of slavery. She explained that she was inspired to write from her own experience as a Black woman with an outwardly white appearance, and also by "a dare I gave myself as a poet." It is, in my opinion, a mark of great humility for her to present such a modest, tongue-in-cheek origin to her work, and I think that characterises Shara perfectly. There was a point after the event when I was convinced I wasn't even going to get a chance to talk to her. The queue of people waiting patiently for her to autograph their copies of her books was nothing to sniff at. But Shara wouldn't stand for that. She insisted that I walk with her and Anthony as they half-rushed back from the event and she was incredibly gracious and attentive towards my hurried questions. Please, if you listen to anything I've written here, let it be this: do not mistake Shara McCallum's short answers for terseness or disinterest – we were literally jogging to get herself and Anthony home on time. She was nothing if not generous with her time and talking to her personally gave me insight into how her empathy and kindness came across so vibrantly in her poetry.
That said, here's a (very) brief Q and A:
Q: "What advice do you have for new writers?"
A: "Read everything you can get your hands on. Everything."
Q: "Which of your works do you recommend for a new reader?"
A: "Madwoman. More people should read about madness. And women."
Q: "If you had to sum up No Ruined Stone in five words or less, what would they be?"
A: "A speculative account of history."
Now let us turn our attention to Anthony Joseph. Anthony is an artist of almost intimidating breadth, a successful poet, novelist, and musician with several albums to his name. Born in Trinidad, his newest collection, Sonnets for Albert, is written in memory of his distant father. As Joseph said, it was an attempt by him to "capture the fragments of my father, to try and make him real." I was immediately struck by Anthony's readiness to discuss the emotionally vulnerable topics of his work, from opening up about his father's absence in his life to even recounting what it was like to act as a pallbearer at his father's funeral. He offered us a personal window into seeing himself as a kind of "gap" in-between his parents and explained how he believed that he mirrored the search that all poets go through in the search for "gaps in language". Even as he discussed these gut-wrenching moments, he always maintained his stoic elegance, powerful voice, and easy humour. If I were to be so bold, he had all of that in him. That "Trinny charisma," the "sharp dress", and the "confidence" that he ascribed to the memory of his father were equally apparent in himself. And this confidence comes through even more so in his work.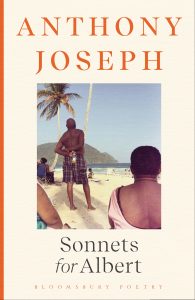 On the subject of narrative form in his latest collection, Joseph said, "The narrative structure was the thing I thought about the least". He explained that he didn't order the poems in the book in any particular way – they simply appear in the order they were written. I struggle for the words to adequately describe how astonishingly brave I think it is for a poet to leave their collection un-curated. But how effective! As Anthony began his first reading of his poem Breathe, there was a part of me that couldn't believe that this wasn't written by design to be the first poem in the collection from the very onset. The way that it established such a heart-breaking tone and set up a dynamic and new style of a "Creole sonnet" was simply breath-taking. It was a genuine pleasure to hear him speak – and I wish I had more words to show that. Alas, finally, I will conclude this piece with his Q and A:
Q: "What advice do you have for new writers?"
A: "Consistency is everything. If you can't sit and write every day, then being a writer is not for you. Read everything you can, follow the trail of the reading; read the writers your favourite writers love."
Q: "Which of your works do you recommend for a new reader?"
A: "Probably this one right here, Sonnets for Albert."
Q: "If you had to sum up Sonnets for Albert in five words or less, what would they be?"
A: "The capacity to love."
Sonnets for Albert and No Ruined Stone are available to purchase from Waterstones. 
Michael Baker (he/him) is an aspiring novelist and writer with ADHD. He is a first-year undergraduate student in English Literature with Creative Writing at UEA. It is his hope to write books that can serve to educate people about the nature of ADHD with hopes of beginning to erode harmful public perceptions brought about by decades of misinformation and misrepresentation in popular media.