Two For Joy; Elizabeth Day in conversation with Christie Watson
Written for UEA Live by Daisy Mattless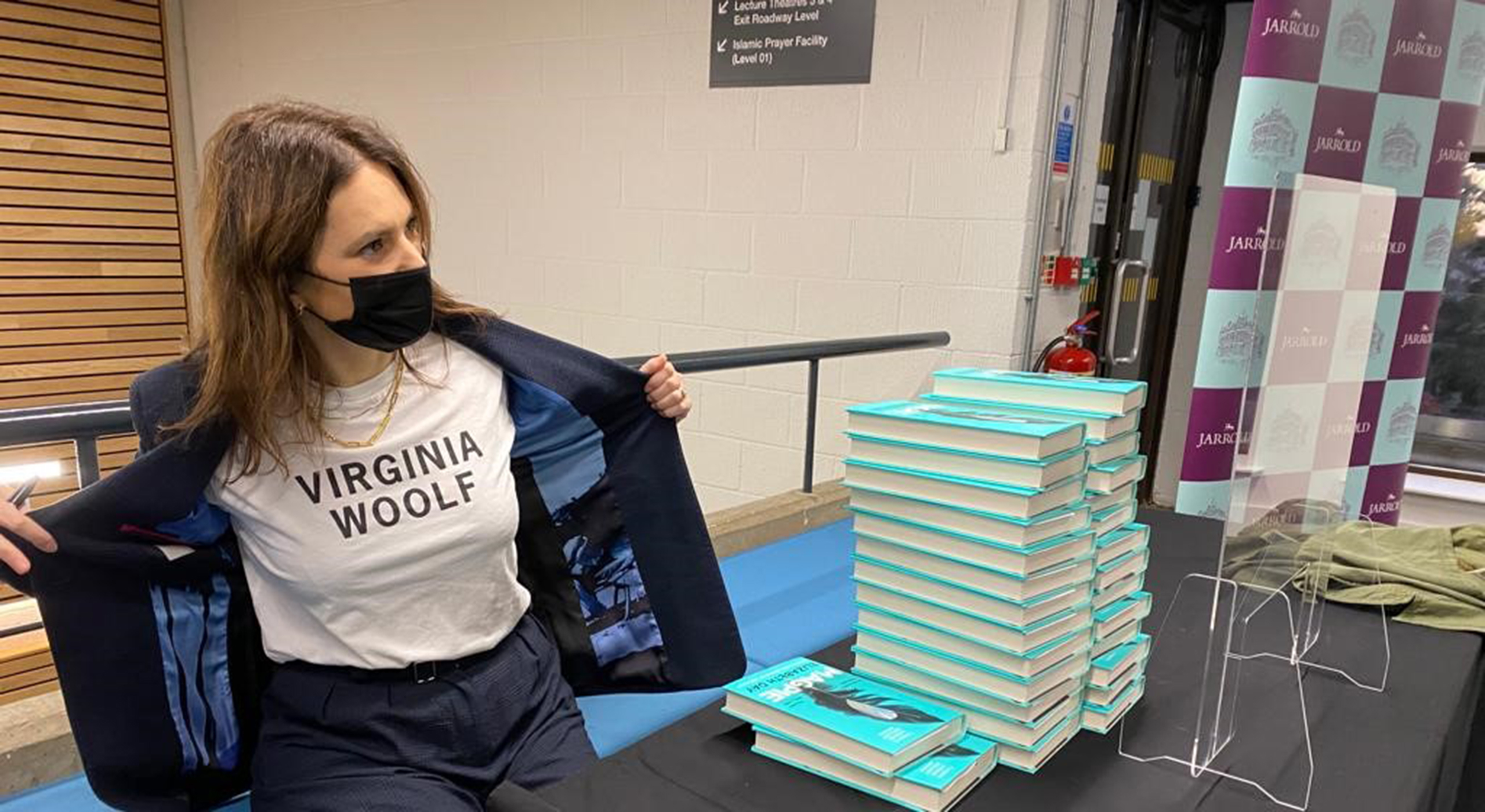 On the evening of Wednesday 27th October, Elizabeth Day captivated and charmed the audience at UEA live, in conversation with writer Christie Watson, to mark the publication of Day's new novel Magpie. Prior to attending the event, I had engaged with Day's chart-topping How To Fail podcasts, which can be described as having revolutionised the concept of failure; so it was an honour to be with the revolutionist herself as well as to gage an insight into Day's literature and recent work. As a member of the audience, I was inspired by Day's grounded and empowering presence, it felt as though I was sitting down and listening to a much-loved friend.
Following a warm introduction from KR Moorhead, Co-director of UEA Live, the evening initiated with the first of many cleverly crafted discussion points from Watson around the key themes in both Magpie and other novels by Day. Fertility, motherhood and mental health, as well as what it means to be a women and human are key themes in Magpie. Day describes herself to be compelled by multifaceted characters, especially women, who in literature and society are often not given the space to be all of who they are – this theme is carried across all of her work. The title Magpie itself intertwines with the themes. The connotations of a magpie, 'one for sorrow, two for joy' relate to the multifaceted nature of the characters. As well as the notion of 'three for a girl, four for a boy' which relates to the themes of motherhood and infertility.
As a listener, I appreciated the response around mental health and the emphasis Day places on this in her novels, which was the first of the three recurring themes Day allured us to. Day spoke passionately of mental health; what it is that constitutes mental illness, and how it is part of humanity. Day validates mental health in all its forms within her novels, where each character is informed by Day's own understanding and experience as well as research and the interviews from the How To Fail podcasts, which feeds an insight and offers a compassionate stance as to 'how people tick'.
Day was brought up in Northern Ireland and describes herself to have always felt more of an observer, which leads to the theme of outsiders and unreliable narrators, where Day goes on to suggest that perhaps we 'are all unreliable narrators of our own lives'. Such as when we tell ourselves we did not eat that biscuit. Further to this, Day touched on the British class system as the third recurring theme, which, may sound like something of the past that society has transcended, however still prominently manifests itself in today's culture.
A treasured part of the evening was obtaining insight into Day and her love of literature. From wanting to be an author since a self-described precocious age of 4, delving into Helen Nicoll's Meg and Mog and Judith Kerr's The Tiger Who Came To Tea, to graciously and admirably stepping into four simultaneous roles; broadcaster, journalist, podcaster and author – the mosaic nature of these being her favourite part of it all. She described how her podcasting feeds into her novel writing and understanding people; pivotal in Magpie which embodies many complex roles and journaling ensures she is never intimidated by a blank page. All of her roles she describes to be related by her love for writing, her love for connection. Day's love of books and writing is what comes first and foremost, 'writing fiction is my first love'. A true author at heart.
We were privileged to hear Day read an extract of her novel – I was utterly engrossed. Magpie, a psychological thriller infused with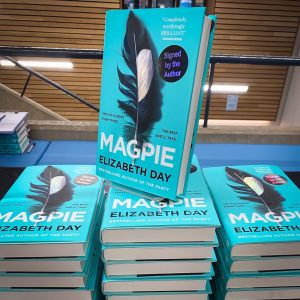 perplexing twists and discombobulating turns, embodying perspectives shifts; motherhood, envy and possession, is an atmospheric novel where Jake and Marissa's relationship is tested by the intrusive orbit of Kate, a lodger they take in, who has a concerning interest in the couple, and everything that Marissa holds dear. In Marissa's quest to seek answers, she encounters the danger of losing all of which she has dreamed of. Day refers to novels such as Gillian Flynn's Gone Girl as inspiring the twisty nature of Magpie. As Watson quotes, think 'Jane Eyre meets Gone Girl'.
Previous to Magpie, Day has published 6 other books, striking a balance between fiction and non-fiction, the first of which was Scissors, Paper, Stone. Day addressed this book in the live Q+A towards the end of the evening, reminiscing it's rejection on numerous occasions before it was published, going on to advise how rejection is part of the journey. Although it can be hard to take, we must learn not to take other's responses personally, or as a reflection of ourselves. This can be difficult as our minds often default to an anxious inner narrative, therefore, we sometimes need to sit down and have a chat with our brains in order to speak more kindly to ourselves. This honest, raw and endearing tone was prominent throughout the evening, and as both a listener and student of creative writing, it was liberating and refreshing to hear Day speak so openly and embrace her journey in all of its light, reminding us, too, to embrace our own journey's in all of their light.
Throughout the Q+A, Day received each question with gratitude, concluding with some wonderfully empowering advice to the audience about leaning into your own creative voice, 'The key to great writing is authenticity. Your fiction has to come from an authentic place. Your voice is unique. Don't try to write like anyone else. Just write.' Day touched on how it can be overwhelming to have to plan everything, sometimes you have to just let yourself sit and write.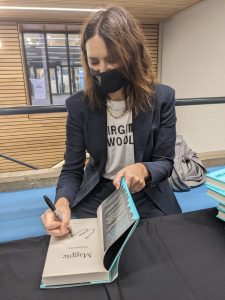 Day related to her own experience, 'Every time I sit down at my laptop, I promise myself 1000 words, no matter how long or how fast it takes me to get there, bearing in mind that tomorrow I can come back and edit'. This is a beautiful example of how just applying yourself without judgement can be the way forward; certainly something I found inspiring and refreshing to hear. 'Writing is a craft', Day offered her wisdom again, alluding to the importance of not being put off by the naysayers. With both talent and application, you can and will get there.
Daisy Mattless is a first year English Literature with Creative Writing student, venturing from the not so far away town of Dereham. In her spare time, Daisy enjoys weightlifting, athletics, cheerleading and sun worshipping, and hopes to one day move to New Zealand where she can both sun worship and write. In the mean time Daisy will enjoy broadening her mind and seizing opportunities in the fine city of Norwich.