Courttia Newland: A Breakdown of his latest novel 'A River Called Time'
Written for UEA Live by Edith Matthias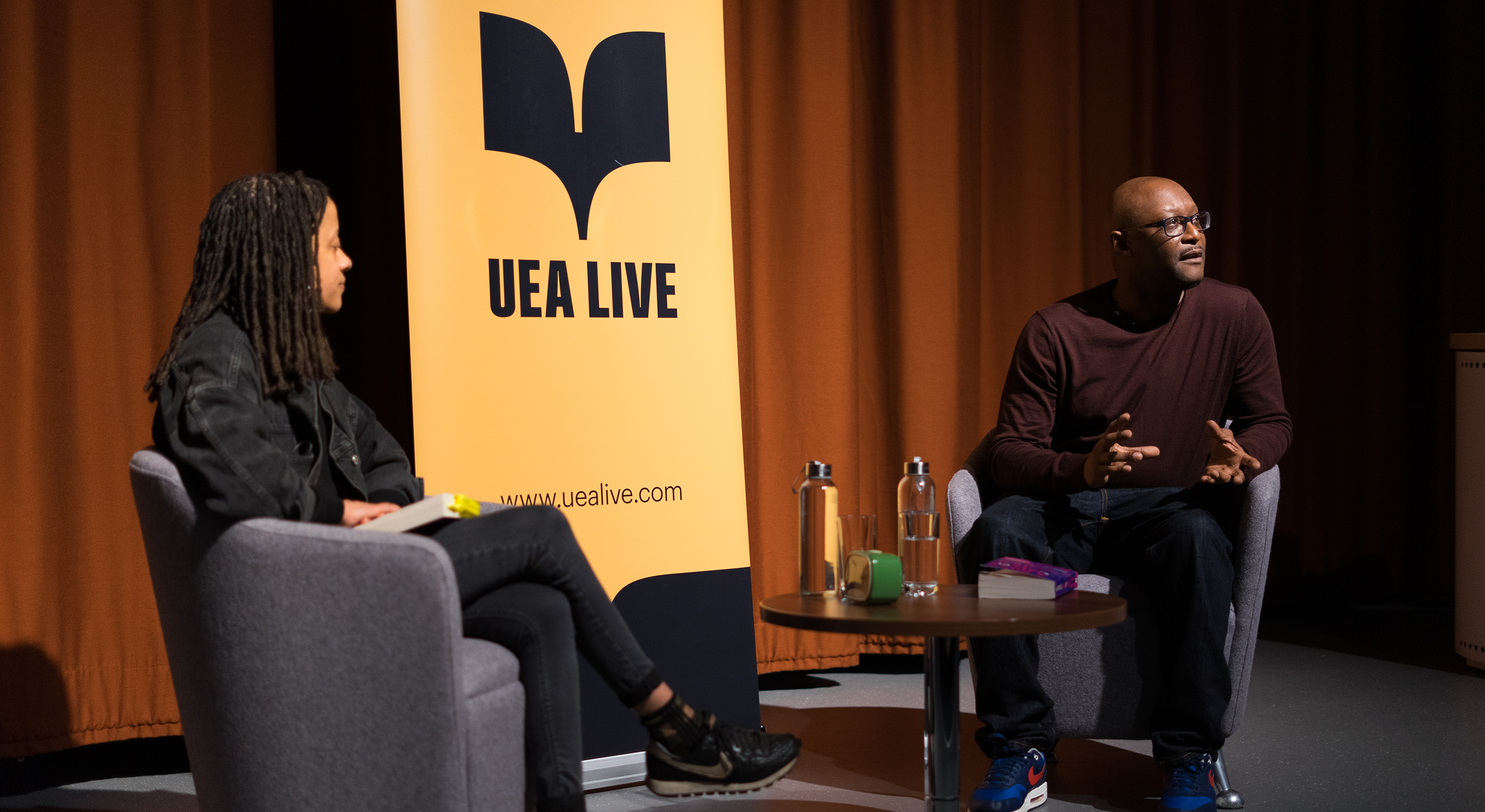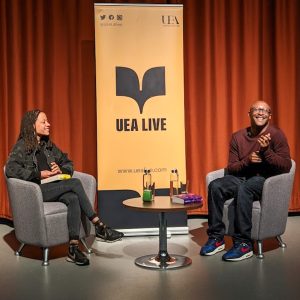 Writer of nine books and eight plays, Courttia Newland, joined us on March 16th, in conversation with radio producer, Amy Nomvula, to discuss his latest novel A River Called Time. Since the release of his critically praised debut novel, The Scholar: A West-Side Story, published when he was only 23, Newland has undergone a range of impressive projects, spanning across the stage, TV and literature. In 2000, Newland was co-editor of The Penguin Book of New Black Writing in Britain, and more recently he has worked in collaboration with filmmaker, Steve McQueen, writing the episodes Lovers Rock and Red, White and Blue, for the BBC series Small Axe. Steve McQueen has long been an admirer of Newland's work, stating in response to A River Called Time, "He manages to convey great depth without ever losing his lightness of touch. A rare feat only reserved for the few." Newland's boldness of ideas that have been implanted into a range of genres from crime to romance and science fiction, has landed him with nominations for numerous awards, including the 2007 CWA Dagger, for which he was shortlisted and the 2016 Tayner Barbers Award for Science Fiction, which he won.
"A River Called Time is truly a labour of love", observed Nomvula in her opening statement about the novel, a fact that I, and seemingly Newland himself, could not agree more with. This rich and expansive four-part story first came into fruition 18 years ago, when Newland was age 28. He had written only the first part, however with the initial reception being primarily rejection, including one which Newland fondly referred to as 'The Spaghetti Rejection', A River Called Time was put to rest. In previous interviews, Newland had stated that there was a "cultural resistance" against his stories that drew upon the ideas of Afrofuturism, combining the narrative of race with science fiction. A mixture of classism and racism caused publishers to push back against the inclusion of ideas about African cosmology, instead, encouraging him to write within the genre of urban realism. During the discussion, Newland said that his 3rd book was written in a more commercial style, but the experience of writing a story for the purpose of satisfying an audience was unnatural and unenjoyable. This wildly contrasted his experience of writing A River called Time, which was fortunately picked back up 18 years later when Newland's editor, Hannah Knowles, discovered it's existence.
The beautifully written novel is an impressive work of speculative fiction that explores a reality in which slavery and the colonisation of Africa never occurred. The narrative takes place in the city of Dinium, a parallel London in which a war, known as 'The Flash War', fractured the city into three: the outer regions which are populated by the poor, the inner region known as 'The Blin', which is devastated and plagued with radiation and pollution, and the central region 'Ark', a haven for the rich and upper class. In this wondrously different, yet not unfamiliar setting, where race as a social construct has not been established, Newland cleverly discusses and explores the idea of race and racism through its absence – he described this as the inverted writing of race and migration. Newland uses this not-too-distant world, to comment on the state of modern Britain, demonstrating how if race was not established as the dominating form of social hierarchy, it would simply be replaced by something else. In this instance it is the inescapable and oppressive class structure that inhibits the majority from being able to make it to the top.
The book follows, Markriss Denny, a young adult from the outer region, who is one of the few people fortunate enough to enter the 'Ark'. Markriss discovers that he possesses the ability to transcend and travel through and across time into different parallels, one of which is intriguingly the London we are familiar with. Through this time travel, Markriss unearths truths about his environment, himself, and the people surrounding him, who's relationship to Markriss differs in each alternate reality. Newland shared with us that when he first wrote Markriss, himself and the protagonist were both aged 28 and although the character was not created for the purpose of being autobiographical, Newland suggested that he acted as a snapshot of himself at the time, reminding him of his mindset 18 years previous. I loved the idea that the characters a writer creates pinpoint moments in the writer's life.
What I believe is most successful about the UEA Live talks, is that you get the hear more about the authors individual process of imagining, crafting, and researching their story, which is particularly poignant for aspiring writers like myself. It was wonderful to hear Newland talk so affectionately about his book shelves dedicated specifically to the research of A River Called Time, to hear how even during the years when the book lay untouched, the shelf remained in waiting. He also spoke greatly about the emotions of writing, particularly, the overwhelming fear and pressure he felt going back into the project, and the vulnerability of trying to do his own idea justice, particularly when it had existed in his mind for so long.
It was beautiful to see the love and adoration Newland had for his own work, his overflowing passion spilled onto the audience so we could truly feel with him the excitement he had for this story. Whilst discussing the book, Newland appeared to discover new revelations about his own story, stating that every part of the book deals with and examines truth. He also discovered that the story acted as a reflection on the experience of migration, and the mixture of pride and fear that comes with it. His overall warmth radiated from the stage, with a mixture of overwhelmed happiness at having finished such an impassioned project.
Having published A River Called Time alongside a work of short stories that share similar themes called Cosmogramma, Newland expressed a desire to have at least a brief hiatus from writing to truly digest his accomplishments. Nonetheless, future projects for both TV and literature are already bubbling under the surface as Newland discussed the idea of creating a piece of fiction that explores masculinity. With concepts that showcase an innovative and thought-provoking outlook on society, whilst being deeply captivating, we should be only left excited for what Newland is yet to release.
Edith Matthias is a third-year student at UEA studying American literature and creative writing. One of the things they are most passionate about is the student radio show that they have hosted for the past three years – at present they have a show called 'What's Cookin' which is all about the relationship between food and music. They enjoy writing surrealist prose fiction.
Image credit:
Header Image: Alfie Kirk
Index Image: Alfie Kirk