Meet Lewis Buxton
We caught up with poet, performer, educator and arts producer Lewis Buxton to discuss creativity in lockdown, his future plans for TOAST and his latest reading recommendations.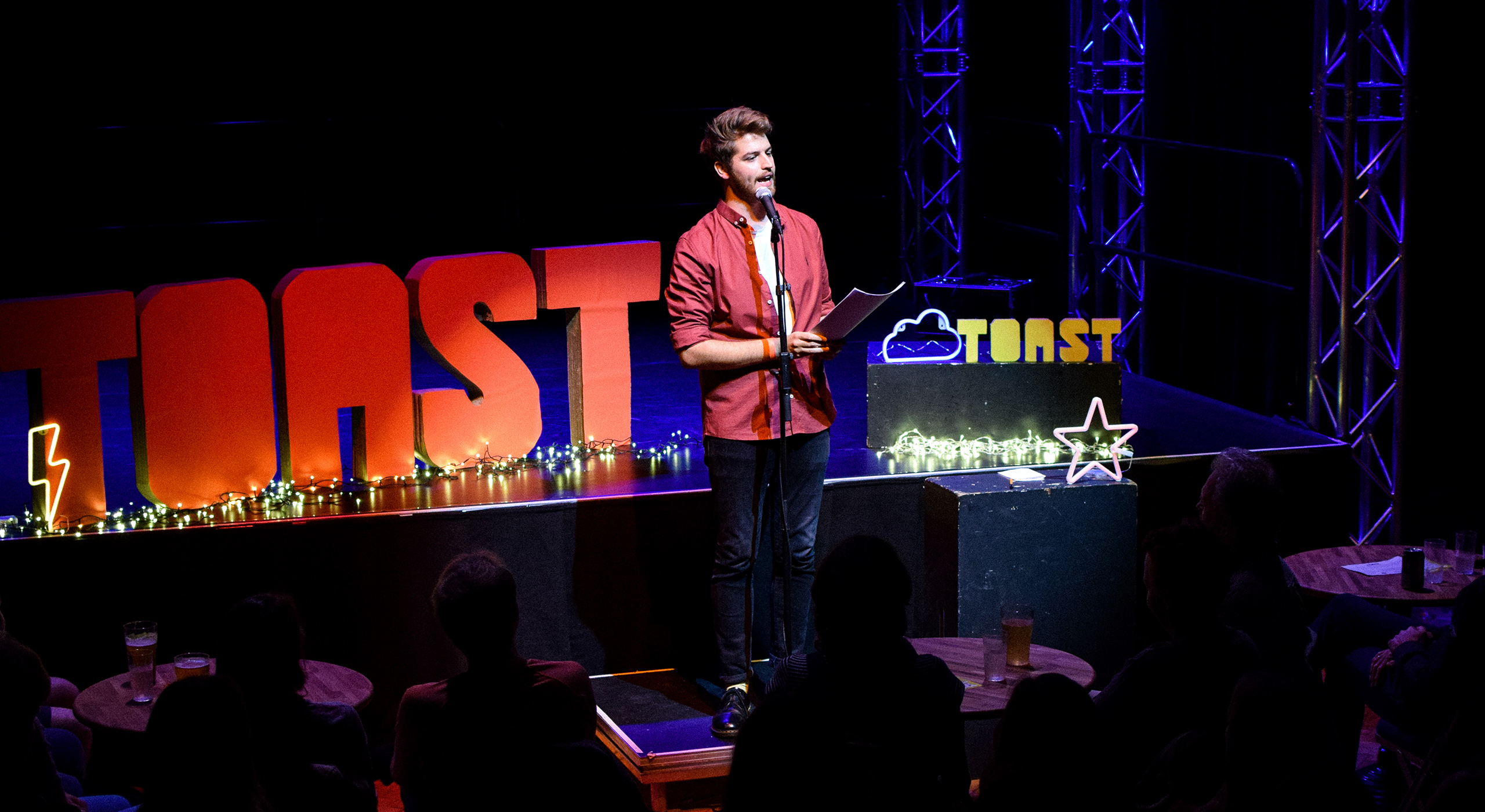 UEA Student Lewis Buxton is a poet, performer, educator and arts producer and in 2018 was the recipient of the UEA Literary Festival Bursary for Creative Writing – a bursary funded by UEA Literary Festival proceeds. His work has been published in The Rialto, Magma, Ambit & Oxford Poetry.
He is Director of TOAST, a live poetry event and workshops project designed to support poets in the U.K. He has performed in theatres and at literary festivals across the country. He teaches creative writing in schools and libraries for organisations like The Poetry Society, The Poetry School & the National Centre for Writing. He is an artist-in-residence for First Story, The Norwich Arts Centre and BBC Norfolk.
Hi, Lewis. Can you tell us how has lockdown affected your creative process?
Lockdown for me has been a big box of paradoxes: most days I've felt like running for miles and staying still; like spending hours on home-made curries and like ordering inordinate amounts of takeaway; as if I've got all the time in the world and none at all; at once more creative and completely blocked. Ultimately, I'd say I have written more in lockdown: partly through necessity, I had a book to finish, a residency of BBC Norfolk to keep up with and a commission for the Lord Mayors' Parade to complete. But the long days – empty of pubs and friends, full of sunshine and books – have given me more time to read and follow my instinct for things I've found interesting. My writing always comes from whatever deep-seated obsession I am cultivating on at any one time: among others I've become fascinated with Greenland sharks (the oldest living mammal we know of on earth at approx. 512 years old), The Calcio Storico Fiorentino (an brutal amateur contact sport which is part football, part rugby and part bare knuckle boxing) and the representation of underweight male bodies in contemporary cinema. My Netflix account is a complicated, unpredictable and unstable beast.
TOAST events and workshops are such a wonderful addition to the literary landscape in Norwich. What inspired you to start the initiative and what are your plans for TOAST in the future?
I've been going to live poetry events since I was 18 – I have found communities, safe spaces and inspiring work in that strange and spontaneous continuum of a live event. For TOAST, I wanted to take the energy of a music gig and the levity and joy of a stand up show, the intensity of theatre, and see it all through the honest, emotion and crafted lens of poetry. There are some amazing events happening in Norwich: Café Writers & Volta open mics which welcome people at all stages in their careers compliment well the literary megaliths that comes to the UEA Literary Festival. I wanted to bring these ideas together, the raw energy and diversity of work that exists in artists at the beginning of their careers, with the craft, precision and skill of artists who are more established. By bringing these people together in a curated and thoughtful way on stage I hope I am building that community and spontaneity that I saw in those first shows I went to as a teenager. The workshops are a smaller, more intimate space to develop writing as well as reading and watching: they are open to everyone so I see them as another unique space that brings poets and audiences together. The long term goal for TOAST is to make a physical space where poets, artists, producers and audiences can come together, a sort of creative, administrative, performance studio – we will always do live events and workshops but I want to curate a base with the atmosphere of a café, the vibrancy of a gig and – when needed – the studiousness of a library.
We are proud to know that proceeds from our ticket sales have helped support you in your education at UEA. What's been your biggest takeaway from your time at UEA?
Working with Denise Riley. She is a thoughtful and caring academic and person who, as one of her colleagues said to me, 'thinks and speaks in full sentences' – a skill not to be underestimated in a teacher. She has helped edit my work in a way that pushed it to the next level and opened a lot of opportunities for me. She made me feel validated and free to keep pursuing whatever strange interest or obsession I was having at the time of our conversation. Also the library and learning facilities at UEA have been indispensable: resources that mean I can take a recommendation from someone like Jeremy Noel-Tod, and affordably (freely even) get my hands on that book within an hour is a special thing I am immensely privileged to be able to experience. Generally though the time and space to write has contributed enormously to helping me finish a book and generate a few other long term projects.
What are you currently reading? Do you have any literary lockdown recommendations?
I keep reading Ada Limons' book The Carrying. In it she says: "Look, we are not unspectacular things./We've come this far, survived this much. What/would happen if we decided to survive more? To love harder?". Reading and writing for me are not a series of rules but more an unending list of questions, and during lockdown, where things seem so perilous, I can't think of a better question to ask ourselves than: what would happen if we decided to love harder? I just finished Peter Kahn's Little Kings which touches on Jewish identity, what it means to be a teacher and Chicago, and Nina Mingya Powles' Magnolia, 木蘭: reading Powles feels like holding a bunch of flowers, watching Blade Runner, going into an interactive live art gallery all at once whilst someone makes you tea in the corner. Also during lockdown my friends Orit, Rishi and I started to combine our love of books and competitive sport and now have a monthly sports book club so we've read: Football in Sun & Shadow by Eduardo Galleano, Among the Thugs by Bill Buford and now Friday Night Lights by H.G Bissinger. I'm dipping in and out of an anthology called Black Nature that my partner just bought which anthologizes four centuries of nature poetry by African Americans. I've found novels quite difficult to stick with: I had to stop reading The Mirror & the Light, but I want a new novel, something compulsive and unstoppable like Grief is the Thing with Feathers, or Swing Time, or I Capture the Castle.
Thank you Lewis, it's been great to hear from you.
You can find out more about TOAST here.
You can support Lewis and the whole TOAST team by visiting The Grain Store. Here you can shop for poetry gifts, commissions and online poetry mentoring from some of the best poets in the UK.
Photo credits:
Index image: No credit
Header image: Taylor Jones