Life would be tragic if it weren't so funny!
Written for UEA Live by Liesl Hammer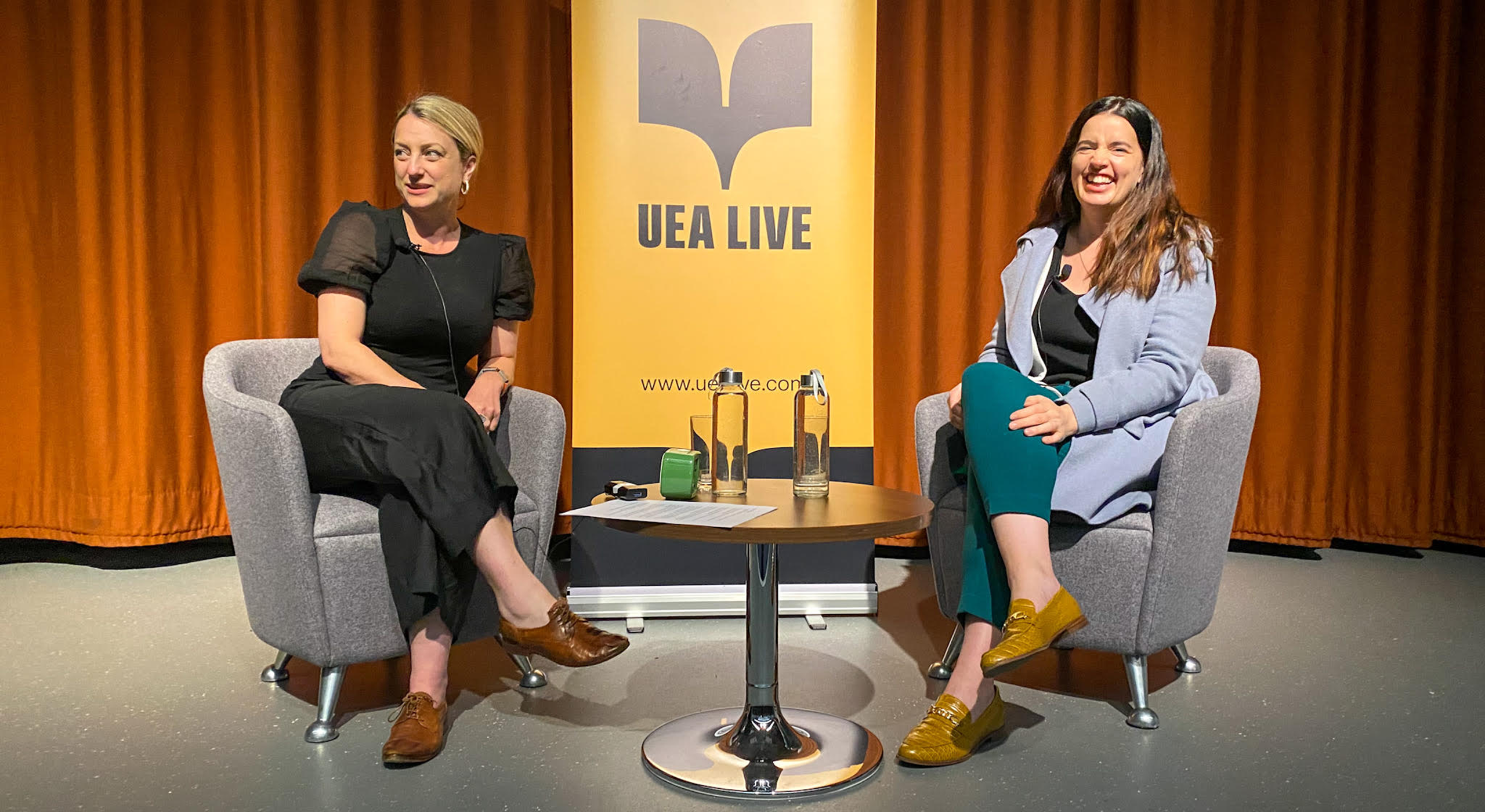 On Wednesday 23rd March, I had the absolute pleasure of watching Kate Bowler talk about her new book No Cure for Being Human with author and UEA Professor of Medical and Health Humanities, Christie Watson. This memoir is a powerful account of how to find meaning in your life when you have a limited time on this earth. This was unlike any talk I have been to as, not only was it a discussion on the creation of this memoir, but Kate also provided extremely profound analyses on life, religion and forgiveness.
Very quickly, right from the outset, Christie clarified that Kate Bowler was Canadian, NOT American, which instantly set the tone for the evening. The talk began with a very emotional reading of the opening of No Cure for Being Human and oh my god! I had not read it yet but the first thing I did upon exiting the auditorium was purchase a copy. Kate had the attention of the entire lecture theatre and, it seemed, as if everyone just wanted it to keep going. A few people started tearing up and I must admit that I was also struggling to keep it together. Even though I had done my research on her, there's something about listening to a person speak about how much they've gone through which just hits different.
Fortunately, almost immediately, this sadness turned into laughter which was much needed. Kate's humour is something I really connected to as, I too, deal with hardships through humour. At one point, Christie Watson used a quote by Stephan Hawking which just sums it up, he said; "life would be tragic if it weren't so funny."  In my opinion, and I think Kate would agree, there's no point moping about if you can't change your situation.
Kate Bowler then shared some entertaining anecdotes, some about cancer but also about her life in general as cancer isn't her whole identity. She talked about her father collecting Jesus's from different cultures and her addiction to looking for 'the biggest… in the world.' After her diagnoses, Kate's first coherent thought was "how ironic that I have just published a book called Blessed."
The conversation then went on to her book. As a historian, Kate tends to hyper fixate on research and naturally, on discovering she had Stage IV cancer, she wanted to find out about this as much as possible. Therefore, the writing process became almost a form of therapy. Somewhere she could talk through her emotions by putting pen to paper. It also made her feel less alone as she discovered communities online of people who were dealing with a similar situation.
After Kate's friend encouraged her to publish, she started receiving emails from 'Garys', as she liked to call them, offering 'advice' on how Kate could be 'cured' or, somehow more shockingly, suggestions as to why God was punishing her this way. She said she has never felt angrier. I was right there with her. See, when people do things like this, it implies that there's something wrong with you or that you must be a terrible person, which is simply not true. Everyone is just living their lives, and no one deserves to be told why their life is wrong!
Then, in true Kate Bowler fashion, she went on to tell us about some hilarious, if not slightly weird, encounters at the hospital. As a person who's very familiar with hospitals and treats it like a regular outing, I appreciated how 'normal' she portrayed these experiences. First, she described a day where she had a bad scan, but then she had to give blood. Her nurse obviously cottoned on to the fact she was upset and pretended to be a vampire who was drinking her blood. As Christie rightfully pointed out, although it is very funny, it does seem a bit inappropriate. On a slightly weirder note, after one treatment had finished, Kate's surgeon actually asked her out. She obviously said no.
Swiftly, the conversation moved onto what Kate is currently working on. The pandemic has shed so much light on the self-help and the wellness industries and this is the work that Kate is most interested in at the moment. Even though mental health has definitely been a focus over the last two years, as we begin to find ways to live through it, she fears that this progress will be lost as we, once again, find ourselves being suffocated by consumerism. I think this will become a phenomenal book particularly as Kate herself has struggled with her own mental health and therefore knows how to speak about the positive, and perhaps, negative impacts of Covid on self-help and wellness. With this in mind, it is safe to say that I will absolutely be picking a copy up as soon as it's released.
To conclude this amazing discussion, the floor was opened for questions and, as Kate expressed, you could see the room was filled with intelligent people. The first person asked if becoming ill made her regret how she treated people who were ill before her diagnoses. She said yes because, now that she was ill herself, she understood that we're all just people and comments like 'I can't imagine what you're going through' simply don't help. Christie takes a moment here to shed light on the fact that not everyone becomes an amazing human being after diagnoses, which further illustrates just how amazing Kate is.
Someone else in the audience then asks the most important question; where you able to forgive the 'Garys' to which Kate replies 'no, but I'm working on it.' Personally, I don't think it should be a case of forgiving ignorant people, it's more about recognising that they're ignorant and realising that a random person's opinion doesn't matter.
Kate ended the talk by addressing her family's reactions to her book, as they are the people who know her best. She said that because she treated her book as if it was a journal, she became more truthful on paper than with her own family. This was obviously hard for her family to hear as, if they had known, maybe there was more they could have done to help her through this time.
Overall, I highly recommend listening to and reading Kate Bowler. As I've said numerous times, her humour draws you in and instantly builds up a connection. If you are concerned about the religious aspect of her writing – I was hesitant as well – I'm very happy to report that despite it being an element within her talk and books, she's not preachy at all.
Liesl Hammer is a second year English Literature with Creative Writing student at UEA. She absolutely loves reading and, as an aspirating writer, events like these are perfect for gaining writing tips. Even though she is not religious person, she empathises with people like Kate Bowler who are unfortunately underestimated because of an illness they might have. She too, wants to use her writing to remove this stigma that disabled people struggle a lot more than able-bodied people. 
Image credit:
Header Image: No credit
Index Image: Alfie Kirk