UEA Live Returns In Person with Lauren Groff
Written exclusively for UEA Live by Ryan Lenney

New York Times bestselling author Lauren Groff graced the stage at UEA Live's first in-person event since February 2020, to talk about her new novel Matrix. Winner of the Paul Bowels Prize for fiction and 2021 National Book Awards finalist, this historical retelling of the life of French poet Marie de France, tells the story of a queer woman who attempts to claim power in medieval Europe despite living outside of the gender norms of the time.
Introduced by UEA Live's Co-Director KR Moorhead, the festival of ideas returned in person on 6th October 2021 on the UEA campus, welcoming current students, alumni and literature lovers from the city of stories and beyond. All of whom took their seats to listen to Lauren Groff and Dr Sara Taylor discuss Matrix and the cultural topics that Groff explores through an historical lens, followed by a brief audience Q&A.
Through detailed and cleverly crafted questions from Taylor, a UEA alumna themselves as well as Groff fan and author of The Shore, the pair discussed how contemporary authors can use the lens of history to differently frame the present. Though Groff had previously claimed she would never write historical fiction again, the dual French and English graduate carried the story of Marie de France in her mind for over twenty years before putting it to paper.
After attending a history lecture on medieval poetry to support her friend, Groff had the image of Matrix rise before her eyes as Marie de France – the first French published female poet and writer of The Lais of Marie de France – stormed into her mind; slaying the other project she was working on and claiming dominion over Groff's writing schedule.
Living as a woman in Florida during the Trump administration, Groff acknowledged that yet again, her voice as a woman was being oppressed and the lethargy of feeling distinctly powerless came into play when writing this novel. The question "what is female power?" is a question that is explored, however as an author Groff noted that she doesn't believe novelists answer anything. Their place is to pose questions that come from contemporaneity. When asked during the Q&A what was the purpose of discussing contemporary issues such as gender expectations, queerness and the role and power of women through the lens of the past, Groff mentioned that it is the distance of perception that she required. When sitting in the eye of the storm it is impossible to fully consider and evaluate the problems that are swirling around oneself. However, by presenting the age-old issues of society and representing modern issues through another lens, she noted that writing about humanity didn't require a specific timestamp of modernity.
Climate change, a topic close to Groff's heart, also features in the historical novel as she made the medieval protagonist consider their environmental impact. Before writing the novel, Groff had already decided that she didn't want to write anything that doesn't engage with climate change. The world is living on the brink of a climate collapse and therefore she didn't want to engage in the corrupt and immoral escapism that excuses modern audiences from ignoring their own impacts. Discussing her personal views, Groff reminded the audience that climate change is not a new issue and humans have been negatively impacting the environment right from when the first flame burned a pile of leaves and refused the ground its natural cycle of deterioration. Ever since then the human ideal of dominion over the land has been of question. To Groff, she noted that dominion is about shepherdship (Genesis 1:26-31) and reminded the audience that dominion and domination are not the same thing. Humanity has come to dominate the world rather than enact dominion and it is time we put that right.
As with every historical novel, delving into the past can also have its fun. Groff took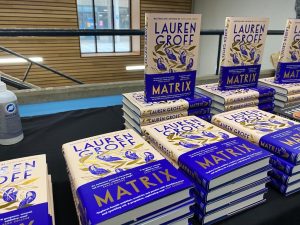 great effort to beg the writers in the room to remember that writing is ecstatic. Part of this ecstasy when writing Matrix was the interesting loophole that she discovered when writing about a medieval abbey of nuns. Sex, at the time, was considered exclusively to involve male genitalia and therefore there were no rules in Christianity against female-on-female intercourse, as it was not considered possible or even fathomed by the clerical men that were dictating the rules. This unveiled a wealth of interesting narratives that Groff found in her research while also allowing her to reimagine Marie de France as a queer woman.
Ultimately, Matrix is a labyrinthine structured story about humans, which guides the reader through medieval France and England with an incredibly witty and modern voice. The insightful, educational and entertaining evening that kicked off this year's festival ended with Groff reminding us that historical fiction is purely an act of translation. That no one in the modern age can be fully awake without acknowledging their own privileges and by the same flip of the medieval medallion, the struggles that humans faced all that time ago may not be so different from the society that can infiltrate the routines of our modern world.
UEA Live will return next week featuring Bimini Bon Boulash. The breakout star of RuPaul's Drag Race UK Season 2, Bimini will discuss their book Release the Beast: A Drag Queen's Guide to Life with UEA Live Co-director and lecturer in Creative Writing KR Moorhead.
Ryan Lenney is a 3rd year English Literature and Creative Writing Student at UEA. In their spare time, Ryan enjoys performing and works part time as a performing arts teacher as well as having recently joined a public relations firm as a communications studio assistant. An avid reader and writer, Ryan regularly enjoys opportunity to expand their sphere of knowledge, experiment and explore new genres of writing.
Image credit:
Header Image: Eli Sinkus